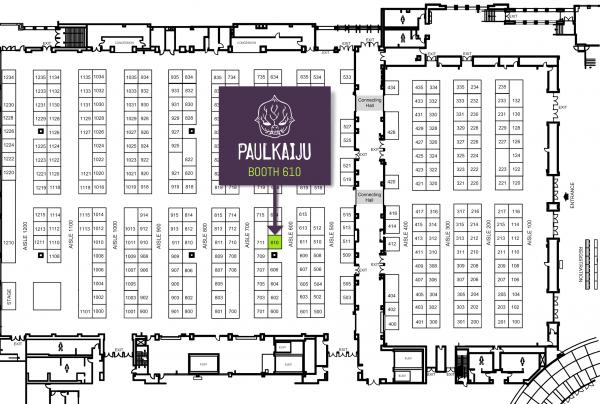 Looking forward to seeing everyone out in beautiful Pasadena! Again for DCon 2014, I'll be sharing booth 610 with Mutant Vinyl Hardcore, All figures at the booth will be available by random drawing, just like last year!
Saturday and Sunday's offerings will be on display throughout DesignerCon, so come early to check out all the pieces and pick out your favorites.
Booth 610 Schedule
Saturday November 8:
| | |
| --- | --- |
| 9:00am: | Free tickets available for Saturday Drawings |
| 12:00pm: | Paulkaiju Random Drawing |
| 3:00pm: | Mutant Vinyl Hardcore Random Drawing |
Sunday November 9:
| | |
| --- | --- |
| 9:00am: | Free tickets available for Sunday Drawings |
| TBD | Mutant Vinyl Hardcore Drawing |
| 2:00pm: | Paulkaiju Random Drawing |
Saturday 1-offs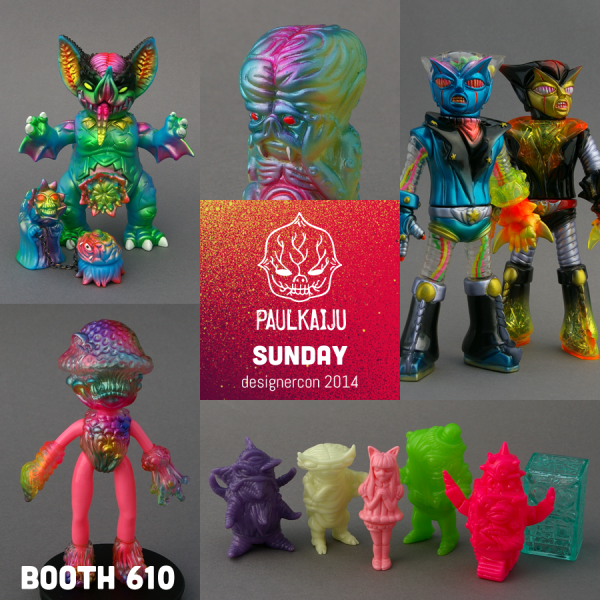 Rules for Paulkaiju Drawings:
Free ticket-wristbands available at booth 610 from 9:00 am until the drawing begins.
One wristband per person, per drawing.
Winning numbers will be drawn at random. Winners earn the opportunity to purchase ONE full-size figure and One Mini from available stock.
Winners must be present, to purchase. Damaged or broken wristbands may be ineligible.
Payment due at time of purchase, via Cash, Visa, AMEX, Mastercard or Discover Card. No checks please.
Remaining stock will be offered on a first-come, first-serve basis after the drawing is closed.
The figures available are for adult collectors only, you must be at least 18 years old to enter the drawing.
Prices limited to supplies on hand at this event
Tickets have no monetary value and do not guarantee any right to purchase.
 Good toy karma to you!